Callao Salvaje is situated on the southwest coast of Tenerife, some 30 minutes drive from the Reína Sofía airport and about 10 minutes drive from Playa de las Américas, heading up the coast towards Los Gigantes.
I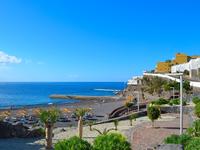 t is both a residential and touristic town (although the locals call it a village) with modern amenities such as supermarkets, banks, shops, restaurants, a church, private doctors and chemist. For state-run services such as schools and social security medical centers, these can be found in the neighbouring towns of Armeñime and Adeje.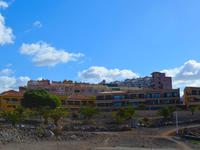 There are 5-6 holiday apartment/aparthotel blocks in Callao Salvaje and one 4*hotel, Callao Sport, whose sports facilities, including golf course and spa are available to the public. The rest of the properties in Callao Salvaje are private residential apartments and townhouses such as the Mariben complex at the top of the village which offers spacious townhouses, some with their own pool.
However, it is the predominance of private detached villas, many with private pools which makes this town different to many others. Originally they were concentrated around the prestigious Colina Verde area but now a large part of Callao Salvaje is made up of low rise private villas. If it is peace and tranquility that you are looking for then here would be a good place to start. Also, if you are particularly looking for a villa in Tenerife, then Callao Salvaje probably has the largest amount of properties to choose from.
A very large complex called Sueño Azul sits at the bottom of the town and is part time-share and part residential. The complex comprises of apartments and bungalows, some of which are front-line and overlook the craggy coastline with access down to the natural seawater swimming pool. The properties were built by a Frenchman in the 1980´s and originally had a large French population but today there is an array of nationalities living in this area.
After twenty years in the making the town now has its own beach whereas previously residents had to use the neighbouring beach of Playa Paraiso. If it is seaviews that you prefer, then here are a few beachfront properties such as the Las Barandas and Aguaviva complexes.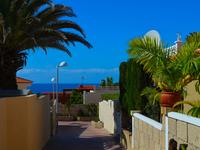 The town of Callao Salvaje sits on the main bus routes from Los Gigantes to Las Galletas so they also stop off in Playa de las Américas and Los Cristianos and in the other direction, the nearby towns of Playa San Juan and Álcala. There is also a permanent taxi rank in the town.
There is a large British ex-pat population in Callao Salvaje which makes relocating to this part of Tenerife much easier. There are probably 7-8 restaurants down in the village of varying nationalities plus some English bars and coffee shops and English hairdressers. However, this may not appeal to you if you are looking to buy in an area with a more Spanish feel to it and be more integrated into the Spanish way of life.
Callao Salvaje is a great place to buy if you want to live in a self-contained village yet be only 10 minutes away from the more vibrant towns of Playa de las Américas and Los Cristianos. Here you have a great choice of villas in Tenerife as well as apartments and townhouses and you can enjoy some of the sunniest days on the island on this stretch of coastline.