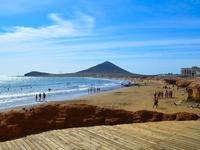 The beautiful town of El Médano sits to the north of the Reína Sofía airport. It is best known and loved for its natural sandy beaches – over 2 kilometers long, its welcoming family atmosphere and the northerly winds which make this one of the world's leading windsurfing and kite surfing locations which has been host to the world famous International O'Neill Windsurfing Competition and the PWA World Cup Competition plus the Kiteboarding World Tour.
The town is home to a mixture of Spanish and International residents and is also a popular destination for international tourists. The majority of properties in El Médano tend to be apartments. However, opposite El Cabezo beach, you will find some very nice townhouses and past the Arenas del Mar hotel on the outskirts of the town in the area called La Pelada you can find some beautiful detached villas and semi-detached houses. There is also a development of generously sized semi-detached townhouses on the main road leading into El Médano. The more affordable properties can be found in the middle of the town and subsequently you will pay more for the front-line apartments such as La Maresia and Costa Roja which have the most amazing sea views. If you are looking for a new build, then there are also the beautiful new front-line apartments in Vistamarina and Los Martines.
If you buy a property in El Médano, you will enjoy a great community feeling especially at the weekends when the beaches are full of families, couples, teenagers and pensioners!! Nearly every morning you can join the streams of people out taking an early walk along the beach. The residents also enjoy a busy social life with local fiestas, markets etc taking place nearly every week!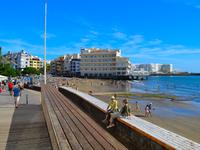 You can also sit at one of the many cafés along the promenade and enjoy the kite-filled skies as you watch the breathtaking skills of the windsurfers and kite surfers. There's a great laidback feel to El Médano!
El Médano has a modern infrastructure with all types of amenities such as a health center, schools, shops, farmers 'market, restaurants and also surf schools and surf shops.
Just a couple of minutes' drive out of the center is the new urbanization called Sotavento, offering apartments and townhouses with direct access to the beach at very reasonable prices. There is a new commercial center being built there too with plans for shops, supermarkets and cafés making this a modern self-contained area.
The beauty of owning a property in El Médano is that you can feel fully integrated into the Spanish lifestyle but even though El Médano is a thriving town, you don't have that hemmed in feeling as with some Spanish towns. You literally have the best of both worlds and can enjoy a very natural outdoor life taking advantage of one of best stretches of beach in Tenerife.
If you prefer the hustle and bustle of busy town life then a property in San Isidro could be just the ticket! Literally on the other side of the motorway to El Médano, this predominantly Spanish residential town is where you can pick up some very reasonably priced apartments and townhouses, some of them new builds. You can also find some real bargains in San Isidro through bank repossessions. There are some great shops in San Isidro, together with 3 large supermarkets, car dealerships, furniture shops, modern sports center, school and doctor´s surgery. The town is very busy, 100% residential, 95% Spanish and a great place to live if you want to be close to all amenities, completely submerged in the Spanish way of life yet only 5 minutes away from the natural beauty of El Médano.