According to a report carried out by NASA a few years ago, based on average temperatures and sunshine hours, the area from Los Gigantes down to Playa San Juan is said to have the best climate in the world! So if you are looking for year-round sunshine (well almost!) then look no further than the beautiful town of Los Gigantes, situated further along the south-west coast of Tenerife, about 30 kms from Playa de las Américas.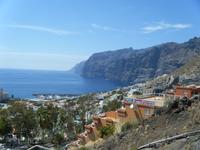 Sitting perched high up on the hillside, the majority of properties in Los Gigantes have the most amazing sea views, such as the complexes of Colonial Park and Buena Vista. They do say you can sometimes catch sight of the dolphins out at sea! It is a one way in and one way out town and to get down into the town center itself, you snake your way down the one-way street and this takes you to the heart of Los Gigantes where you will find the local black beach, the local lido and the beautiful leisure marina where both private and commercial crafts are moored. One of the main landmarks of the town are the cliffs of Los Gigantes which at 600m, stand up to their name of "The Giants" and one of the best ways to enjoy them is to take a boat excursion which will take you right along the foot of these amazing cliffs.
The town of Los Gigantes isn't that big but it is full of charm and they seem to pack a lot of amenities into a relatively small space with lots of bars, shops, restaurants and a church lining the busy high street. It is a very popular tourist destination with plenty of holiday apartments and the Los Gigantes hotel down in the center. If you are looking for a front-line property in Los Gigantes then the Poblado Marinero apartments sit right above the marina.
If you are thinking of buying in this very quaint little town, then most of the properties in Los Gigantes tend to be apartments and a lot will be quite high up the hill, so something to bear in mind when walking back home! If you are looking for a villa in Los Gigantes, then your search would be concentrated around the prestigious area of Crab Island, right down on the coast.
If you venture out of Los Gigantes you arrive in Puerto Santiago, a charming little fishing village with a more Spanish feel to it, with narrow streets and a beautiful rocky coastline. If you want to enjoy these views every day then you could look at one of the front-line complexes of Vitacura.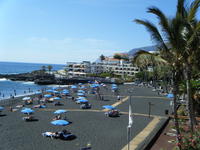 Neighbouring the village of Puerto Santiago is the town of Playa de la Arena (literally translated as "Beach of Sand") and with good reason as here you'll find a beautiful black beach with natural volcanic sand, worthy of its Blue Flag status, surrounded by various bars and eateries.
All three towns have direct bus links to Playa de las Américas and Los Cristianos and are only a 25-30 minute car drive away. Once the extension of the motorway is completed, hopefully this will reduce these times considerably.
Being so close to the north coast you are also within an easy distance of the breathtaking village of Masca and the Teno mountains.
So if you would like to own a home in an area of unsurpassed natural beauty and enjoy an unrivalled climate all year round, look no further than a property in Los Gigantes or in its neighbouring towns of Puerto Santiago or Playa de la Arena.