Playa de las Americas was a relatively small town up until about 40 years ago – then the tourism industry took off in the south and this town became the main tourism nucleus on the island. As the years went by the area doubled, tripled and quadrupled in size with more hotels, apartments, villas, houses, commercial centers and infrastructure being built each year.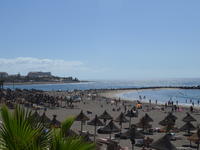 Today, Playa de las Americas stretches from Los Cristianos all the way over to the newer areas of Costa Adeje. It holds a prime position along the coast and can offer a selection of top-quality beaches, a prestigious golf course, vibrant nightlife, great selection of shops and commercial centers, two fantastic water parks; Aqualand and Siam Park, two big hospitals and a leisure marina (there's even an Iceland supermarket!).
If you are thinking of buying a property in the south of Tenerife then you will be spoilt for choice for affordable apartments in Playa de las Americas. A lot of property in Playa de las Américas tends to be very centrally located with good access to beaches, shops, restaurants and public transport.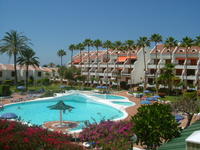 A lot of this coastline is taken up with hotels and holiday accommodation but a very popular beachfront complex in this area is the Parque Santiago Apartments, (I, II, III & IV). These are front-line apartments and their unrivalled location does come at a premium as they are also just across from the "Golden Mile", otherwise known as the Safari Center. This was developed about 15 years ago and is a shopper's paradise, offering an array of electrical stores to designer shops together with a myriad of top quality restaurants and bars and a very chic 9 & 18 hole Crazy Golf course.
Further along the coast you will find the bustling area of San Eugenio offering lots of shops and bars and a large commercial center (which incidentally is where the Adeje Land Registry is and also one of the busiest Notary offices in the south). This is also where you'll find the beautiful marina of Puerto Colón, home to many luxurious leisure boats and also the big whale-watching catamarans. If you are looking to buy a front-line property overlooking the harbour then there are some very nice apartments for sale in Club Atlantis. If you prefer something slightly larger, then amidst the hustle and bustle of San Eugenio you will find the beautiful villas of Villaflor.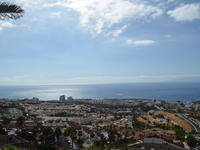 With Playa de las Américas being one of the original tourist destinations, subsequently a lot of the properties are older builds but likewise can also offer more affordable apartments in the south of Tenerife. Complexes such as Borínquin, Olympia and Copacobana offer a range of affordable apartments for sale in Playa de las Americas and they have the added bonus of being close to the only casino in the south of the island.
If you prefer to be in quieter surroundings, away from the center, then you can cross the motorway and head up towards the areas of Torviscas Alto and San Eugenio Alto. If you are looking to buy newer builds or villas in Playa de las Amercias then you will have more choice here. Some of them afford fantastic views of the coastal areas, but a car is probably advisable for some of the properties higher up the hill. Some larger apartment complexes in this area are Ocean View Apartments and Roque del Conde, both with communal pools and fantastic views.
This is also one of the few areas where you can still buy land for sale in Playa de las Americas and have your own luxury villa built and designed to your specifications.
So if you enjoy the hubbub of town life with a host of amenities at your fingertips, there are properties for sale in Playa de las Américas to suit both ends of the budget.