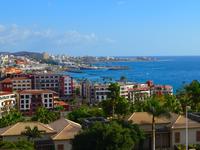 Costa Adeje in the south of Tenerife covers quite a substantial area and as its name suggests includes many of the coastal areas of the municipality of Adeje. There aren't any hard and fast boundaries as to where Playa de las Américas ends and Costa Adeje begins but as a general guide, the towns of Fañabé up to La Caleta would be considered as Costa Adeje.
These areas used to be thought of as the wealthy suburbs of Playa de las Américas but they have grown considerably in the last 10 – 15 years and are now important tourist and residential towns in their own right.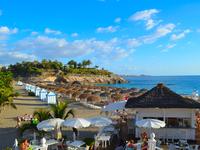 In keeping with the many 5 star and 5 star-grand luxury hotels in this area, the properties are also a little more select, a little more luxurious and needless to say .… a little more expensive. There are many areas offering villas for sale in Tenerife, but the villas in Costa Adeje are some of the more up-market villas in the south, such as the Habitats del Duque and Parque de la Duquesa. There are also plots of land for sale in Costa Adeje if you like the idea of having a house built to your own specifications.
Properties in this area hold their value very well and even the older complexes such as El Beril and Altamira are still sought after properties with their unrivalled seafront positions. A little higher up the hill is the impressive new complex called Baobab with its all-white façade and glass balconies.
If your budget doesn't quite stretch to a luxury villa, there are still a lot of beautiful apartment complexes in Costa Adeje with communal pools such as Magnolia Golf Resort and Oasis La Caleta.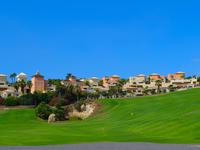 One of the main attractions in Costa Adeje is the prestigious golf course which has some luxury properties close by such as Mirador del Golf and Sunset Golf Villas.
The quality of the infrastructure in this area is reflected in the quality and price of the properties in Costa Adeje. As well as the 5 star hotels and the luxury golf course, there are also wonderful sandy beaches, excellent restaurants offering a myriad of national and international cuisine and commercial centers offering a choice of designer outlets.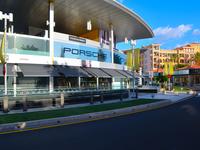 There are also plans to build a huge mega-mall between La Caleta and the motorway, offering a host of shops, eateries and cinema complex.
However, not all property in Costa Adeje has to cost an arm and a leg. There are still a lot of complexes offering value for money apartments such as Orlando and Mareverde in the Torviscas area which are close to all amenities including the beaches and commercial centers.
The benefits of owning a property in Costa Adeje are that it would be a very sound investment as the area becomes more sought after. Also, you would be buying into a lifestyle which affords you that little extra touch of luxury in a more up-market area, away from the madding crowds of central Playa de las Américas yet only 5 minutes away if you so desire!