Palm Mar has been one of the fastest growing towns over the last decade and has tripled in size since the first bungalows were built some 30 years ago. Separated from Los Cristianos by Montaña Guaza, Palm Mar has become a very popular residential town for all different nationalities, giving it a very trendy, cosmopolitan feel. There are no hotels here so it is a far cry from some of the overtly touristic towns elsewhere in the south of the island.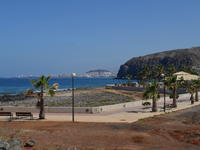 Palm Mar is ideally situated just a 10 minute drive east to the south airport and a 10 minute drive west to its bustling neighbour of Los Cristianos. Palm Mar is a modern, self-contained town which cannot spread in size due to its natural triangular borders; the ocean to the south, Montaña Guaza to the west and a nature reserve to the east.
The town of Palm Mar has a modern, sophisticated feel to it which is reflected in some of the modern architecture. It is easy to see that this town has been planned and built with a concept in mind – and that is to enjoy living here! There is a beautiful promenade in true Gaudi style, with modern, colourful tiling … reminiscent of the town of Barcelona!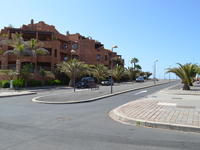 Because the town of today has only really developed over the last decade or so, a lot of the property in Palm Mar is new or nearly new. If your budget allows it, there are some luxurious, high-end apartments such as the stylish Bahía de los Menceyes and Playa de los Menceyes.
A little more middle of the road are the popular complexes of Terrazas del Faro, Los Balandros and Laderas del Palm Mar, which offers a beautiful swimming pool area and wonderful gardens. If you are in the market for a modern townhouse, then Estrella del Sur will provide you with a newly built property in Palm Mar, close to the sea. If you are looking for a villa in Palm Mar then you will find some spacious and reasonably priced villas and bungalows in the centre of the town.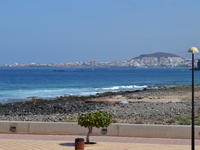 The beach of Palm Mar is a natural beach, with a mixture of sand and pebbles but there are plans to modernise it. There are also plans (and have been for a number of years!) to join the bay of Palm Mar with the bay of Los Cristianos via water taxis. There is also a very pleasant park area in the town with plans to extend it and incorporate a large, ultra modern sports centre.
With restaurants, bars and cafés together with shops and a local supermarket, you really don't need to venture out of Palm Mar! This town is the perfect location if you are looking for a quiet, residential area with modern amenities and architecture accompanied by a trendy cosmopolitan atmosphere. Palm Mar is on the up and is definitely becoming a very sought after and desirable place to live.