If you are choosing a place to buy a property in Tenerife, Los Cristianos can probably offer you a lot of what you have on your wish list. This town has gone from a small, local fishing village to a thriving touristic and residential town which has still managed to retain its local charm and in the older parts of the town, along the narrow streets, you can still enjoy the feeling of the typical Spanish "pueblo".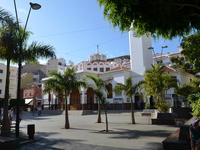 Unlike its larger neighbour of Playa de las Américas, Los Cristianos is condensed into a smaller area with the centre of the town being mainly pedestrianised making it very easy to get around, especially for wheelchair users. The church and church square are the focal centre point of the town, surrounded by easily accessible streets and walkways offering an excellent choice of shops, bars, restaurants and coffee shops. The beachfront is easily accessed and has a host of frontline restaurants and offers a very pleasant walk in a relaxed atmosphere.
The main commercial port in south Tenerife is situated in Los Cristianos and is home to local fishing boats, leisure boats and the ferries which will take you over to the islands of La Gomera, El Hierro and La Palma.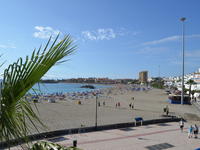 There are two main beaches, one of them is Las Vistas which links up with the beaches of Playa de las Américas and the other is the town beach, in front of the port and there are plans to extend this beach along the coast to the Arona Gran Hotel.
If you are looking for nightlife then there is the lively area of San Telmo which overlooks the Las Vistas beach and which offers some top quality restaurants together with a few local nightclubs and bars.
Depending on what type of property you are looking for, you can find a complete range of apartments in Los Cristianos, from the more touristic complexes such as Paloma Beach, Castle Harbour and Cristian Sur, to the higher end of the market such as El Rincón, Playa Graciosa and Parque Tropical.
If you don't mind being a 15 minute walk from the centre, there are some good value for money apartments up on the hill towards the back of Los Cristianos such as The Heights, Port Royal and El Mirador – all offering fantastic views over Los Cristianos and the coast. If you prefer to be closer to the beach then you can get some good value apartments in the Torres del Sol complex.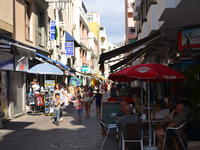 There are so many types of apartments for sale in Los Cristianos, something to suit everyone's pocket from studios to duplexes and penthouses. However, if you are looking for a larger property such as a house or villa, then you may not have as much to choose from although there are some properties offering their own private pools such as the Vista Hermosa complex. You will find much more to choose from if you move your search further down the coast towards Costa Adeje.
So if the important things for you in your property search are being close to all amenities, having easy access on foot to the main shopping areas and beaches, enjoying an excellent variety of restaurants and eateries all accompanied by a mixture of a cosmopolitan holiday feeling with some Spanish rustic charm, then look no further than the beautiful town of Los Cristianos.